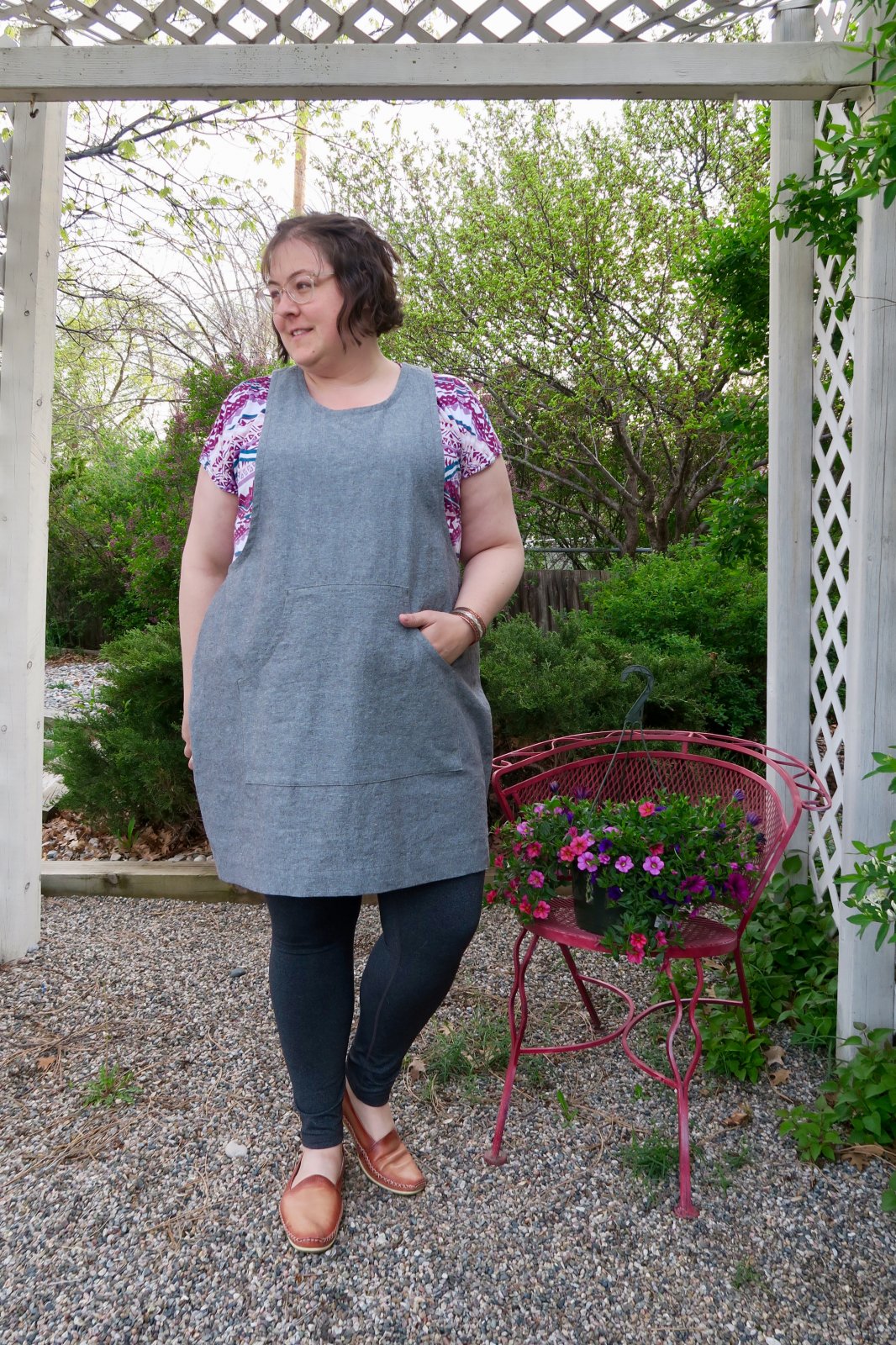 Have you been wanting to get into garment sewing, but been a little intimidated about where to start? Have you been worried the patterns won't fit you right or won't fit you at all? Then this is the class for you! Come join us in making the York Pinafore from Helen's Closet. This pattern is available in sizes 0-30. This pattern is available in sizes 0-30 and is perfect for all sewists--even quilters wanting to move into garment sewing!
We will learn the basics of taking measurements and spend some time customizing the pattern to fit our unique bodies. Then, we will sew up this fun and unique garment using skills you have already learned in your quilting or crafting projects. Optional: If you wear or bring leggings and a t-shirt to the class, that will help us in fitting the pinafore as we go, and you will be able to wear your fabulous new outfit out the door!
You can find the pattern requirements here on Helen's Closet's website. We recommend linen, denim, or even quilting cotton for your first time making this pinafore.
Materials:
Your class fee includes a printed York Pinafore pattern, so you do not need to purchase that before the class. You will need to bring fabric, 4 yards of double fold, 1/2" bias tape, and matching thread. We recommend that all fabric be pre-washed before the class. You can either come in early before class and have Hip Stitch staff assist you in choosing your pattern and fabric, or use something that you already have.

Also, if you have a sewing machine, bring it and some basics like scissors, pins, and thread. Or, if you'd like, you can borrow one of ours.
| | |
| --- | --- |
| Skill Level: | beginner |
| Skill Details: | Please be proficient with a sewing machine; no previous garment sewing experience is required. |
| Requirements: | Email susan.hipstitchabq@gmail.com if you have questions about this class and please make sure that you have read the About Our Classes section on our website at https://www.hipstitchabq.com/about-our-classes.htm. |
| Instructor: | Megan Green |
| Instructor Bio: | You can find information about Megan on her blog, www.TheGreenViolet.com. If you have questions, please email her at TheGreenViolet@gmail.com. |